Create amazing maps in Adobe Illustrator using data and MAPublisher mapping tools.
MAPublisher cartography tools and panels are seamlessly integrated
Proud to be a sponsor of Adobe MAX 2021
When it comes to creating maps in Adobe Illustrator, look no further than MAPublisher. For more than 20 years, MAPublisher continues to be the industry-standard solution for easily making high-quality maps for print and web. Everything is all in one place to design maps with data. There's no need to switch between applications.
MAPublisher for Adobe Illustrator has all the tools you need to design maps that are creative and informative.
National Geographic Trails Illustrated trail maps are made with MAPublisher.
MAPublisher maintains geographic properties of any data imported into Adobe Illustrator and maintains a "map awareness" where users can make unique design decisions using data-driven design tools. For example, a new trail dataset reflecting changes in trails and points of interest can be imported, and its labels on a trail map can be updated quickly using its attributes.
The perfect intersection between art and science
"I am extremely comfortable with Adobe Illustrator so when I discovered that there was a cartography plug-in for it, called MAPublisher, that could be used to manage GIS data to create maps, I knew that it would be faster and easier than learning an independent cartography software tool."
– Kim Beckmann, Associate Professor of Design & Visual Communication
Learn more about this project on our blog
Design Smarter, Not Harder
Save time by styling map data based on its attributes. Use MAP Themes to create thematic maps, designate point symbols, and apply graphic styles based on rules that you create.
One World, Many Map Projections
Using the appropriate map projection is crucial for any map design. Fortunately, MAPublisher for Adobe Illustrator supports thousands of coordinate systems and projections to help you display data accurately.
Treat Spatial Data Like Works of Art
Working with geospatial data doesn't have to be rigid. MAPublisher offers plenty of flexibility when editing map features in Adobe Illustrator. Create new features on-the-fly, maintain georeferencing when joining data, cropping, trimming, buffering, and simplifying.
Image Slider 1
Seamless integration with Adobe Illustrator
Image Slider 3
Detailed grid, graticule and index customization
Image Slider 4
Quickly geoprocess features
Image Slider 5
Full geospatial PDF support

Extensive Geospatial Format Support
Import leading GIS industry formats from Esri, Google, MapInfo, WFS/WMS services, and other GIS sources with all attributes and georeferencing intact and fully editable. See all supported import formats.
Precise Label Placement
Create labels based on data attributes. Use the Label Features tool to place labels to map features automatically and fine-tune labeling with the MAP Tagger and Contour Tagger tools. Get MAPublisher LabelPro™ which pairs advanced rules to a sophisticated labeling engine for a more efficient and intelligent label placement.
Export What You Want, Where You Want
Create visually stunning maps that are print-ready. Need to go digital? Export geospatial PDF that contain coordinate system and attribute information. Need a web map? Export your maps using MAP Web Author to create HTML5-compatible web maps without coding knowledge. Take it mobile by exporting map packages compatible with the Avenza Maps app. See all supported export formats.
Work with MAPublisher-ready maps from OneStopMap
MAPublisher maps from OneStopMap are produced using Open Data, specifically the Natural Earth dataset. These ready to use small scale overview maps can be further styled using MAPublisher Stylesheets and Adobe Illustrator tools.
MAPublisher offers much more
MAPublisher and Adobe Illustrator together form the complete cartographic workflow—from raw data to publishing a high-quality map; and everything in between. Combine powerful graphic design tools and the geospatial precision of MAPublisher tools to build visually-rich maps.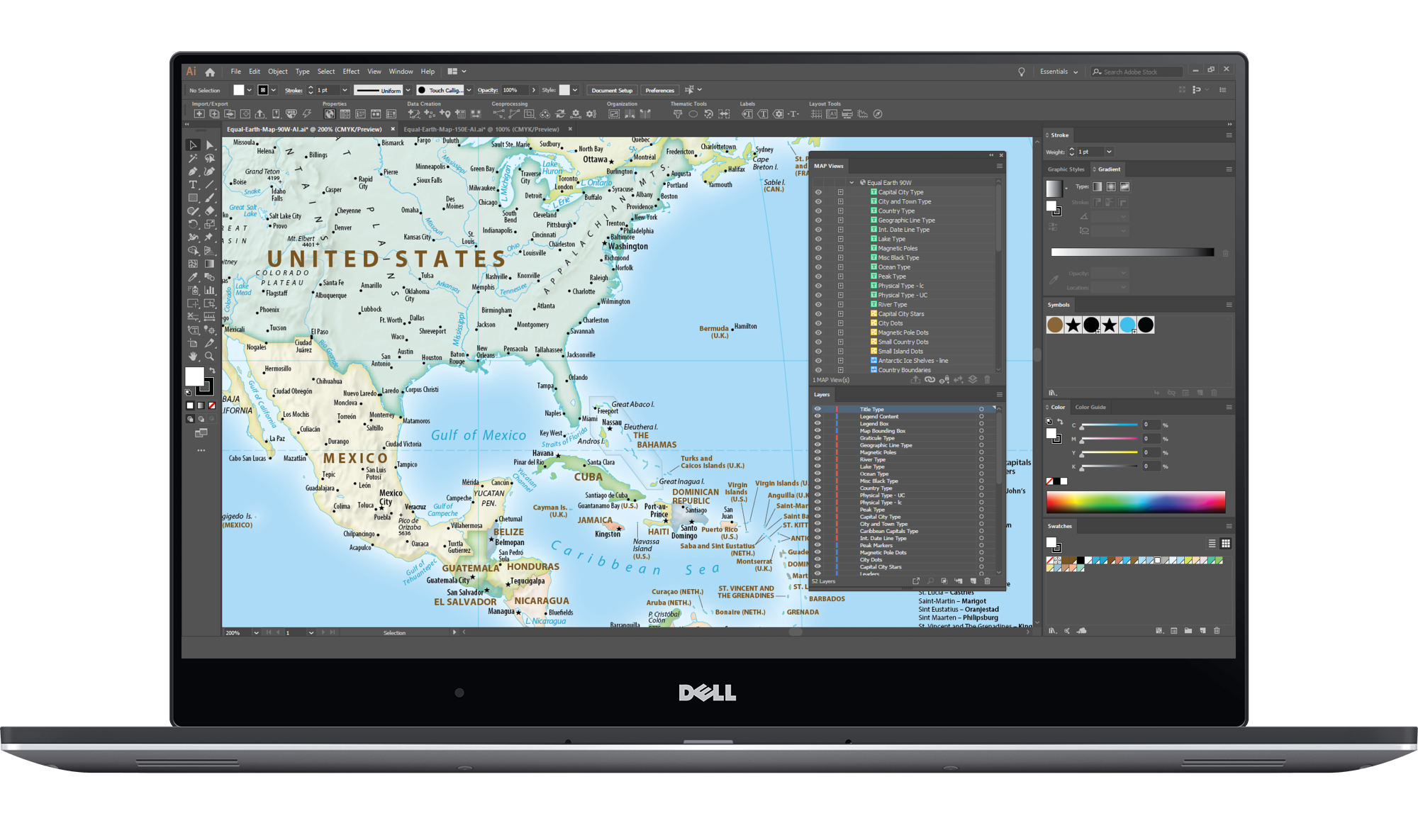 Download a free trial of MAPublisher and start mapping!