Avenza Systems reseller in France, Géom@tique, will be sponsoring and attending GÉODATADAYS 2018 in Le Havre, Normandie, France on July 3 & 4, 2018. Avenza software, including MAPublisher, will be among their mapping solutions demonstrated at their booth.
***
Géom@tique sera présente aux GÉODATADAYS 2018 qui se tiendront les 03 et 04 juillet prochains! C'est au Havre, en Normandie. Retrouvez-nous sur notre stand!
Premier événement national de référence indépendant autour de lagéographie numérique, les GéoDataDays s'adressent à toutes personnes concernées par les données géographiques : élus, gestionnaires de territoire, chercheurs, géographes, chefs d'entreprise, représentants de pôle de compétitivité…
Ces deux journées s'articuleront entre :
2 grands débats sur des sujets stratégiques : les données souveraines, la production de données décentralisée et mutualisée ;
2 grands thèmes : les territoires intelligents, l'Eau et le littoral ;
3 grands défis : l'Internet des objets, la mobilité et les véhicules autonomes, l'intelligence artificielle, etc ;
3 ateliers pratiques : l'occupation du sol, le PCRS, adresse et documents d'urbanisme ;
des ateliers sponsors ;
1 festival de Géo-innovations ;
1 espace exposant pour promouvoir les entreprises de la géomatique ;
des animations pour favoriser le networking.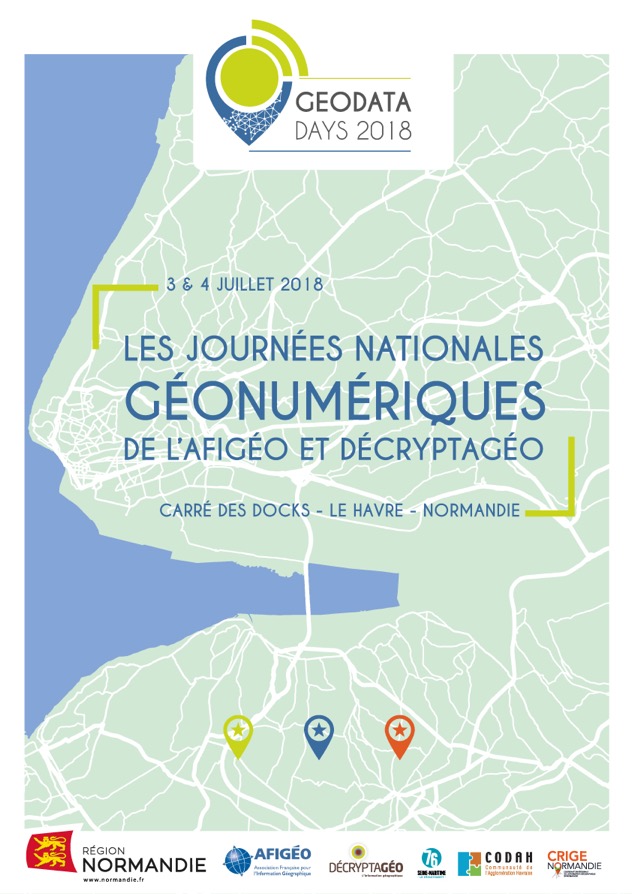 More information at available on this Géom@tique blog.